Massage Therapy Services
Massage Therapy Pricing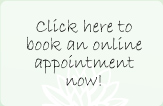 90 Minutes - $98
60 Minutes - $72
30 Minutes - $42
Reflexology (45 minutes) - $58
Hot Stone Massage (60 minutes) - $79
Cranial Sacral Therapy (60 minutes) - $75
Lymphatic Drainage Therapy - $80.00
Feel free to add on our spectacular organic body treatments to your massage session in Ann Arbor, MI!
Full Body Polish - $70
The ultimate post-massage treatment that can be combined with any facial or massage session. Includes: full body dry brushing to increase circulation, followed by an organic peppermint/spearmint cleanse, sugar scrub body glaze and lavender mist!
Relax Sack Therapy - $15
Organic scented flaxseed muslin bags placed according to areas of pain and tension to prepare and aid in complete relaxation and comfort during massage therapy session.
Therapeutic Pedi-Scrub - $20
Warm Salt soak, followed by sugar scrub, reflexology, body butter and lavender mist. Main Street Massage Therapy Spectacular Organic Body Treatments.
Massage Therapy Services
Reflexology
The Reflexology technique involves stimulation to specific areas on the hand or foot, based on the theory that certain points in the hand and foot affect other body organs and areas. Historically, the approach seems to have originated in China. Foot reflexology is the most popular type of reflexology.
Myofascial Release
The purpose of Myofascial release is to release restrictions in the deep fascia. This is accomplished by stretching the cross-links and changing the viscosity of the ground substance of fascia. Deep releases are performed all over the body in all directions, depending on where the restriction is located.
Neuromuscular Therapy
This technique manipulates the soft tissue of the body (muscles, tendons and connective tissue) to balance the central nervous system. In a healthy individual, nerves transmit impulses (which are responsible for every movement, function and thought) to the body very slowly. Injury, trauma, postural distortion or stress cause nerves to speed up their transmission, inhibiting equilibrium and making the body vulnerable to pain and dysfunction. It is therefore necessary to stabilize low levels of neurological activity to maintain normal function and overall health.
Cranial Sacral Therapy
This light touch therapy is especially effective for migraines, mild depression, cervical, thoracic, and lumbar pain as well as chronic pain syndrome. Light touch is applied by the therapist to enable the body to heal on its own. Every person has a cranial pulse, and by palpating that pulse, your therapist gets an insight into what is needed to balance the cranial rhythm.
Hot Stone Massage
With Hot Stone Massage the heat enhances the effect of increased circulation that massage induces. The client will also notice increased movement in joints due to warm tendons loosening faster. Overall it is both comforting beneficial.
Polarity Therapy
This gentle modality was developed in the 1940s by Dr. Randolph Stone who was a Chiropractor and Osteopath, and is based off of Ayurvedic tradition/medicine integrating the five chakras and the five elements. A session seeks to find where energy may be blocked and released to ease pain/stress/dis-ease and maintain a healthy flow pattern of energy.
Lymphatic Drainage Therapy
This therapy provides movement of the lymphatic system in one's body. The therapy is administered by a soft pressure to guide the lymph in the proper direction to create an even flow in one's body. This therapy not only promotes a sense of well-being, it also helps to reduce fatigue.