Improving Mental Health with Relaxing Ann Arbor Massage Therapy
Posted by: Mary Miller
Every so often, we experience some form of stress. Desk workers experience the brunt of postural stress, as much of the tension accumulates in their shoulders and the neck. Massage therapy, however, does not only help relieve back and neck pain, but also counteracts prolonged hours of sitting.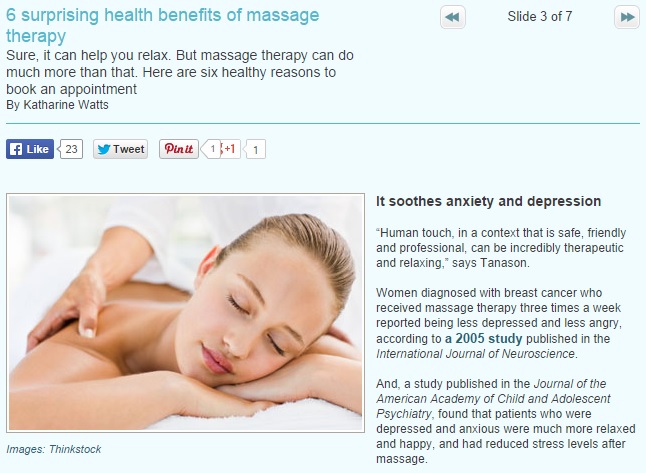 Ann Arbor massage therapists offer a number of techniques that go beyond soothing physical aches and pains. Research suggests that getting regular massages are also linked with better mental health. According to the National Institute of Mental Health, 26.2 percent of Americans suffer from a diagnosable mental disorder in a given year, with anxiety and depression being the most common forms. Katharine Watts from Best Health shares how relaxing massage therapy can positively affect those with weak mental health,
Human touch, in a context that is safe, friendly and professional, can be incredibly therapeutic and relaxing," says Tanason.

Women diagnosed with breast cancer who received massage therapy three times a week reported being less depressed and less angry, according to a 2005 study published in the International Journal of Neuroscience.

And, a study published in the Journal of the American Academy of Child and Adolescent Psychiatry, found that patients who were depressed and anxious were much more relaxed and happy, and had reduced stress levels after massage.
Massage reduces levels of cortisol, resulting in lifted spirits and often lower blood pressure. In addition, it also boosts neurotransmitters serotonin and dopamine-hormones released to counter anxiety and depression.
The traditional methods of treatment for mental disorders often involve taking an assortment of medications to balance out hormone levels. Due to recent medical discoveries though, massage has become an additional treatment option for mental conditions so patients don't have to rely solely on medication.
Ann Arbor massage therapy offices, such as Main Street Massage Therapy, offer massage services that promote the alleviation of body pains as well as the improvement of one's mental health. A relaxing, amazing and wonderful experience gained from one or several massage therapy sessions are sure to lessen physical and mental stresses. To ensure that a patient will receive effective massage therapy, it's always better to talk with his therapist first in order to clarify what he wants to get out of the session.
(Source: 6 surprising health benefits of massage therapy, published on BestHealth.com, undated)