Couples Massage in Ann Arbor: A Lovely Addition to Any Romantic Date
Posted by: Mary Miller
Have you and your partner fallen into the same old routine of dinners and movies? Why not try something new to spice things up a bit? In an article for Examiner.com, Law of Attraction Life Coach and Reiki Master Julie Neese describes how unique dates with your partner can help the relationship: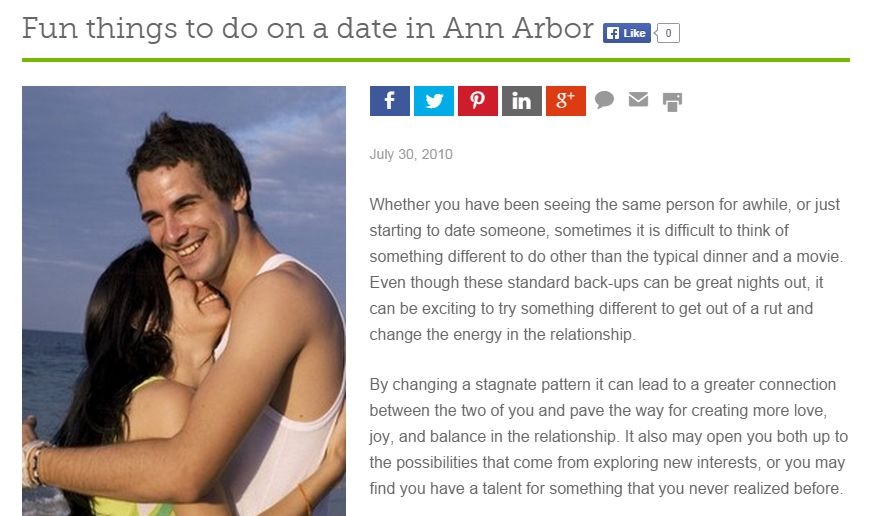 Whether you have been seeing the same person for awhile, or just starting to date someone, sometimes it is difficult to think of something different to do other than the typical dinner and a movie. Even though these standard back-ups can be great nights out, it can be exciting to try something different to get out of a rut and change the energy in the relationship.

By changing a stagnate pattern it can lead to a greater connection between the two of you and pave the way for creating more love, joy, and balance in the relationship. It also may open you both up to the possibilities that come from exploring new interests, or you may find you have a talent for something that you never realized before.
Neese suggests visiting the University of Michigan Museum of Art or strolling through the Botanical Gardens, among the many things you can do in Ann Arbor. Sydney Hawkins- Communications Director for the Ann Arbor Area Convention & Visitors Bureau- recommends touring the Huron River by canoe or boat, and walking through scenic Gallup Park or the Scio Woods Preserve.
After exploring the city's beautiful sights and surroundings, you both deserve to unwind. Cap off your romantic date by having a relaxing massage in Ann Arbor. Let the soothing strokes and rejuvenating rubdown melt any stress and fatigue away.
Sure, you can go on individual massages, but a couple's massage would let you bond and de-stress better. Partners who undergo these treatments find they can reconnect and even rekindle their romance through such an intimate setting. Since your therapists will help both of you ease into a state of bliss, you can both free yourself of worries and weariness and focus on enjoying together.
You can even do without the tiresome activities and simply plan a spa getaway with your partner. Even better, a spa like Main Street Massage Therapy offers packages including dinner and couples massage in Ann Arbor. With this, you can enjoy a romantic evening free of the planning stress and full of shared fond memories.
(Source: Fun things to do on a date in Ann Arbor, Examiner.com, July 30, 2010)